Volume 4 Issue 1

January 2000

Tegrity EduCarts Purchased by Regional Center
Combination hardware/software allows instructors to create and publish online presentations
The CVC (California Virtual Campus) Statewide/Rural Regional Center recently purchased two Tegrity EduCarts for Regional Center colleges to use and evaluate. One cart will be housed at Cerro Coso Community College, and the other at American River College.
The Regional Center, in partnership with Tegrity will initiate a loan program, which will provide the opportunity for each college in the region to have the carts on their campus for up to two weeks.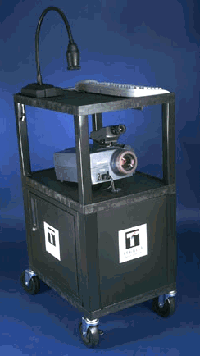 The Tegrity EduCart allows an instructor to create a lecture, filled with rich multimedia content, without a lot of postproduction work. The Tegrity EduCart is a self-contained system which includes a Windows PC, an LCD projector, a document camera, an additional instructor camera, a video capture card, the cart and the Tegrity software which gives the Tegrity system its plug-and-play environment.
Instructors need only a short introductory session before they can use the carts to create their own online class presentations. After the lecture is created, using the Tegrity EduCart, it may then be either saved on the cart's hard drive or published to the web. The lecture is then delivered synchronously or asynchronously to students using a Web browser. Students need a 28.8Kb connection or better to view the production.
Samples of presentations created using the Tegrity system can be found at http://www.tegrityclasses.com The Tegrity software uses the Microsoft Office suite of programs, specifically PowerPoint and Windows Media Player, so it allows instructors to create PowerPoint presentations while streaming audio and video lectures to accompany them. This capability would require considerable post production work without the Tegrity EduCart. The diagram below outlines the steps involved in the creation of a presentation.
More information, as well as pricing and contact information may be found at the Tegrity website at http://www.tegrity.com .