Volume 4 Issue 1

January 2000

Online Certificate Degrees at Butte College
Chris Palmarini
Editor, TIPS News
Beginning in the spring 2000 semester, Butte College will be offering a new way for students to get a Certificate of Achievement in either Natural Resources or Parks and Recreation, and they can stay at home to do it.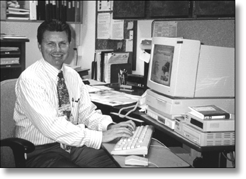 "There is a lot of built up frustration among Californians who want to go to school. It's not the cost, it's the time," said Dr. Richard Slavich, a Butte College Agriculture and Natural Resources instructor who offers several science courses over the Internet, in addition to numerous courses via cable television or videotape.
Slavich, the first faculty member to offer Internet classes at Butte College, has elevated his efforts by offering the two totally online Certificates of Achievement. "It's really starting to gain some momentum. I can't believe the interest that comes from the offering of Internet classes here at the college," he said.
Butte College has a reputation of aggressively pursuing distance learning opportunities, lead by Dr. Slavich and others, such as the now common television courses and courses-via-video. In 1998, the college launched into cyberspace to offer selected courses to anyone, anywhere, via the Internet.
To understand the roots of the virtual university, one can look back to the early years of correspondence courses where postal mail was the primary teacher-student contact. Today, class assignments are posted on a Web page, and are accessible to every student via the Internet. Homework and assignments are transmitted via e-mail; the instructor's comments and responses are posted and available to all students at any time; and real time chat rooms and video streaming function as alternatives to the lecture forum.
The Internet is often a stepping-stone for students who normally would not participate in the classroom. "I see more student interaction on the Web than in the classroom," commented Slavich.
The fall 1999 semester has seen the highest enrollment to date for Slavich's distance class sections. "I foresee no limit to enrollment for those institutions that meet the demand future students will place on technically savvy institutions," he said. Other Butte College instructors have also recently begun offering Web courses, but are generally limiting their enrollments during these early exploratory stages.
At Butte College, the Internet courses are a natural progression for Slavich, who has been pioneering distance learning courses for years, as he continues to develop courses on video and will soon be moving into the DVD format.
"My pressure to develop classes of this type (online) is from my students," said Slavich, explaining how firefighters, farmers, and others who cannot commit to a traditional schedule, seek the flexibility of his distance courses.
However, many students still prefer to be in the classroom with a professor. Slavich agreed, "the textbook is alive and well for the immediate future." There are still big hurdles to overcome, and questions to answer for higher education. For example, educational traditionalists ask: How do you attract students used to traditional classrooms? Is it fair to limit public education courses to only those who can afford a computer and online server provider? How should fees be handled if a student takes courses from different colleges?
"Right now we're at a stage where we can't honestly answer all of those questions, but we (educators) will probably be forced to come to terms with these questions much sooner than later. Nevertheless, Slavich has no plans of slowing down developing distance classes, and he anticipates that the college will offer a totally online Associate degree in Natural Resources by the spring 2001 semester.